A Financial Distributed Database based on Lakehouse Technology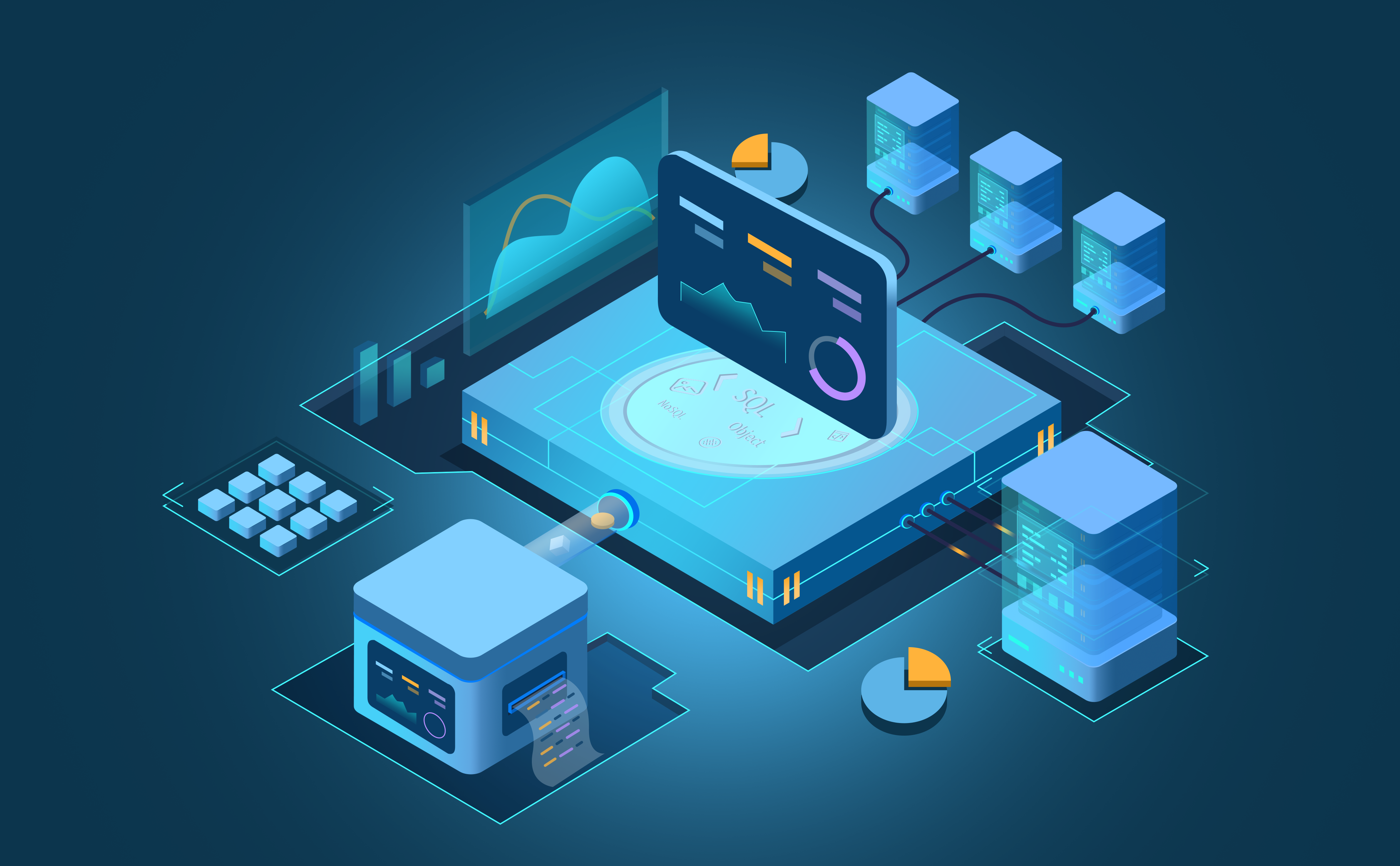 SequoiaDB - Service Scenes of Multi-Model Data Lake
With the rapid development of the mobile Internet, the application scenes of the financial and banking industry are constantly multiplying. Business channels such as mobile banking, mobile business halls, online banking, remote banking, open banking, and process banking have brought massive data growth to the financial and banking industry with more diverse data types. In particular, the explosive growth of unstructured data intensifies the complexity in data-driven business scenarios, and at the same time puts forward new requirements for data storage management architecture. As a handy high-performance one-stop data storage system, Multi-Model Data Lake are gathering momentum in many enterprises' commitment toward unified management of full data.
SequoiaCM is a content management platform built on the distributed database of SequoiaDB. It can be accessed through the S3 engine interface of object data, the JSON interface, and the SQL interface for unified management of unstructured and structured data and constructing the Multi-Model Data Lake. The Multi-Model Data Lake enables the storage and management of massive unstructured data with application programming interfaces (APIs), tag management and retrieval and other features. It effectively helps enterprises with the unified storing and managing of unstructured data for scenarios concerning structured data governance and content management that require ultra-large capacity and elastic scaling.
Engine-Level Multi-Modelity
Support unified storage of semi-structured, unstructured, and structured data with access through the S3 engine interface of object data, the JSON interface and the SQL interface to reduce difficulty in system development and improve team development efficiency.
Unstructured Data Management
Provide support to hierarchical management of hot, warm, and cold data and multi-tenant management with differentiated server deployment to achieve both cost efficiency and good performance. The service management layer provides a number of content management features to support data lifecycle management, rights management, object version control, historical version restoration, etc., to further improve data security.
High Performance & Low Cost
Guarantee the network access of full enterprise content data, support multi-strategy partition management and sub-domain caching, adopt resource pooling on the storage engine layer to improve the management efficiency and processing performance of massive data, and greatly reduce hardware and O&M costs, cutting down the TCO to 1/3 of the traditional ECM solution.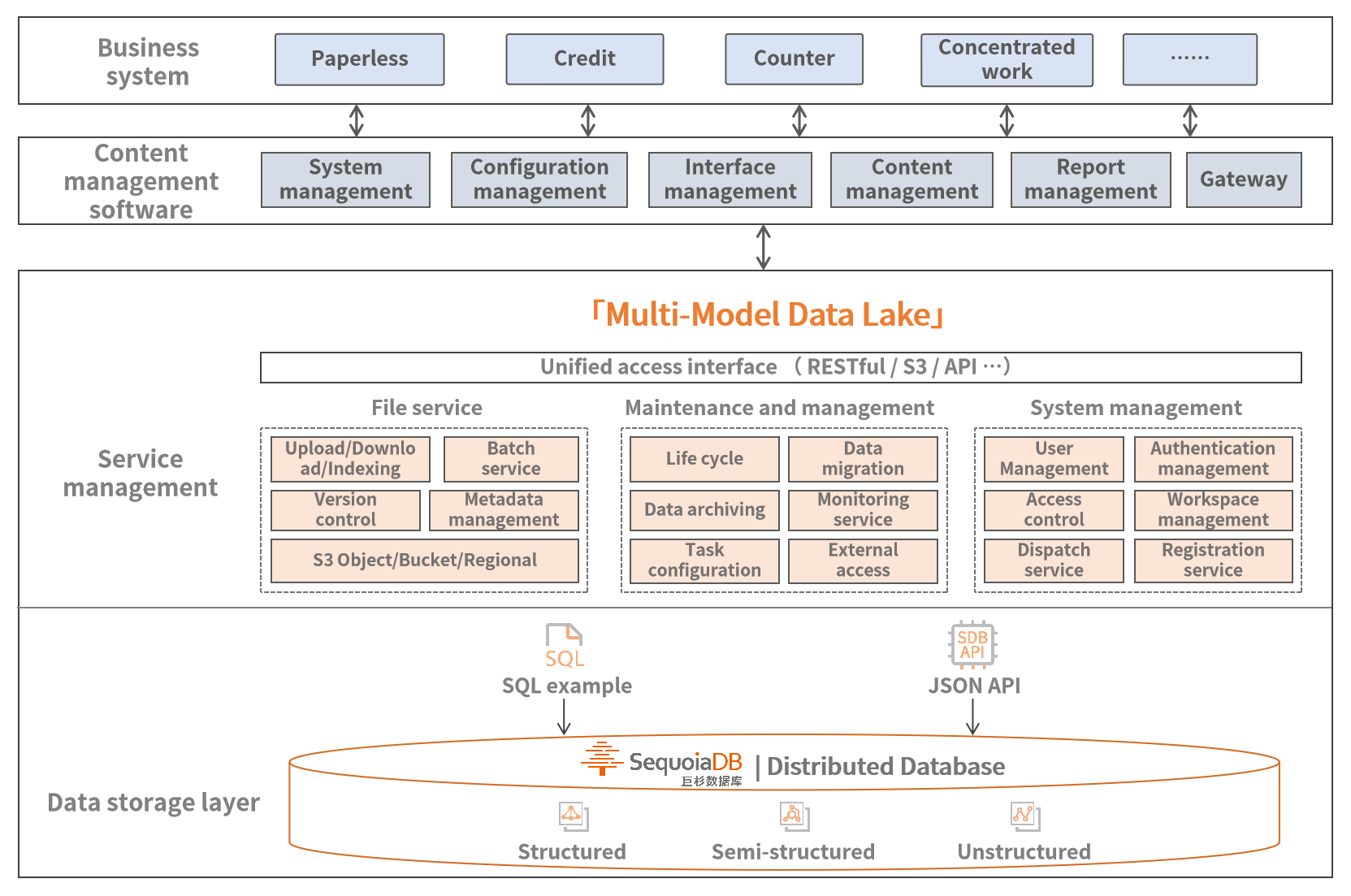 SequoiaDB with a National Joint-stock Bank
Background
Existing Architecture: Two sets of imagined platforms with the EMC Documentum for credit service and internal auditing and IBM Filent for personal banking service.
Business Situation: With remote banking becoming the trend for future development, the bank is at the forefront of the industry in the transformation rate of offline to online business. The promotion of remote banking requires a powerful database to ensure the Real-time reading of unstructured audio and video files.
Problems:The bank's image platforms have been running for nearly 10 years, conducting image data management for dozens of business systems. The data size has far exceeded the designed capacity limit of the traditional solution mentioned above. The image platform of the traditional IOE solution can no longer meet the bank's requirements for the following reasons:
Low efficiency of billion-level data access and retrieval. Even with sub-table processing, the amount of data to be managed still stands at hundreds of million levels.
High storage cost for hundreds of terabytes of data. Hundreds of terabytes of storage space lead to prohibitive costs on high-end storage hardware.
Undistributed databases and storage give rise to bottleneck nodes, despite the support for cluster deployment of applications.
The amount of file data is too large to use conventional file backup schemes.
The data lifecycle management is based on age and tape is used for offline storage. Access response to offline data takes more than 10 minutes.
Construction Logic
Aiming at solving the problems above and based on the bank's business expectations, technical requirements for the transformation of the existing image platform architecture are put forward in accordance with the estimated amount of data in the next 10 years:
Fast retrieval from tens of billions of uniquely identified data records and service capacity for a single table reaching at least tens of millions of data records.
PB-level storage capacity.
A low-cost solution using conventional hard disks as storage media.
Multi-copy disaster recovery of unstructured data. The multi-copy solution to data storage can improve data security.
Remote disaster recovery of massive unstructured data with support to cross-center disaster recovery.
A distributed architecture of double active data centers in the same city.
Modules such as database and storage are all available to a distributed architecture with online horizontal scaling ability.
Available data lifecycle management.
Stable access to technical support and custom development.
Compatible with conventional architectures for seamless migration of existing production data.
Results
SequoiaDB has been running stably for 7 years, powering more than 50 business systems with over 100w of business volume per day, over 200GB of downloads per day, and over 100GB of uploads per day on average. The system is running smoothly overall.
With the distributed technology, the bank's background data platform is empowered to handle the real-time massive amount of unstructured data. This enables horizontal scaling, improves the system stability and provides real-time audio and video access for remote banking business. This also explores the best practice of distributed technology in this scenario with many technical problems creatively solved in the process.
Ready to get started with SequoiaDB?