Content management solution
Increasing the value of unstructured data
SequoiaDB provides unstructured data content management capabilities. From ticket scans, office documents, to audio, video and image data, SequoiaDB is suitable for storage and real-time access to PB-level of files, and provides low-cost high-availability and disaster-recovery deployment solutions to maximize the value of unstructured data of enterprises.
With the development of mobile and Internet technologies, audio and video scanning data has gradually occupied an increasingly important position in many industries. For example, many banks have opened self-service sites, and all remote teller services and document verification rely on image scanning. Similarly, a large number of Internet apps require users to upload information such as ID photos to effectively verify users' identity. In new technology trend, the traditional storage mechanism of video and images can no longer satisfy the read and write access to massive and real-time high-frequency unstructured data.

Scatter data in system cannot be shared
Complex services lead to scattered systems in enterprises, and the unstructured data are completely isolated and cannot be shared

Lack of flexible horizontal scalability
The system lacks flexible horizontal scalability, and the performance and capacity bottlenecks are obvious, which are unable to meet the explosive growth of data volume and flexible expansion of business needs

Unable to respond quickly to business growth with transient outbreaks
The explosive growth of business generated by Internet marketing activities has led to tremendous pressure on enterprise back-end data storage, both in terms of capacity and performance

High hardware and software costs
Enterprises adopt traditional centralized storage architecture, which requires the support of under-layer storage devices, resulting in high unstructured data storage costs
What is Content Management
Unlike a simple distributed file system or object storage, content management system could manage the metadata of each object in addition to store file objects. At the same time, the content management system provides complete support for unstructured data such as high availability, disaster recovery, batch upload and download, labeling, full-text search, life-cycle management, simple file processing, unloading, and break-point resume.
Financial Service

SequoiaDB can completely replace traditional content management software such as IBM CM8, Filenet, and EMC Documentum in financial services. And it can provide underlying unstructured data storage services for customers in different industries such as banking, securities, and insurance.

Government

SequoiaDB can be used to replace traditional NAS file systems with various government applications such as electronic licenses, population file information, and security audio and video capture.

Manufacturing industry

The manufacturing industry has a large number of paper scans or design software archives such as drawings, design drawings, and receiving reports. The characteristics of labeling, retrieval, and lifecycle management of SequoiaDB can greatly simplify the management of massive files in the manufacturing industry and effectively improve the efficiency of internal operation and collaboration within the enterprise.
SequoiaDB distributed content management solution provides a flexible and scalable unstructured data storage platform, as well as rich metadata management mechanisms including batch management, version management, life-cycle management, label management, fuzzy retrieval, and break point resume.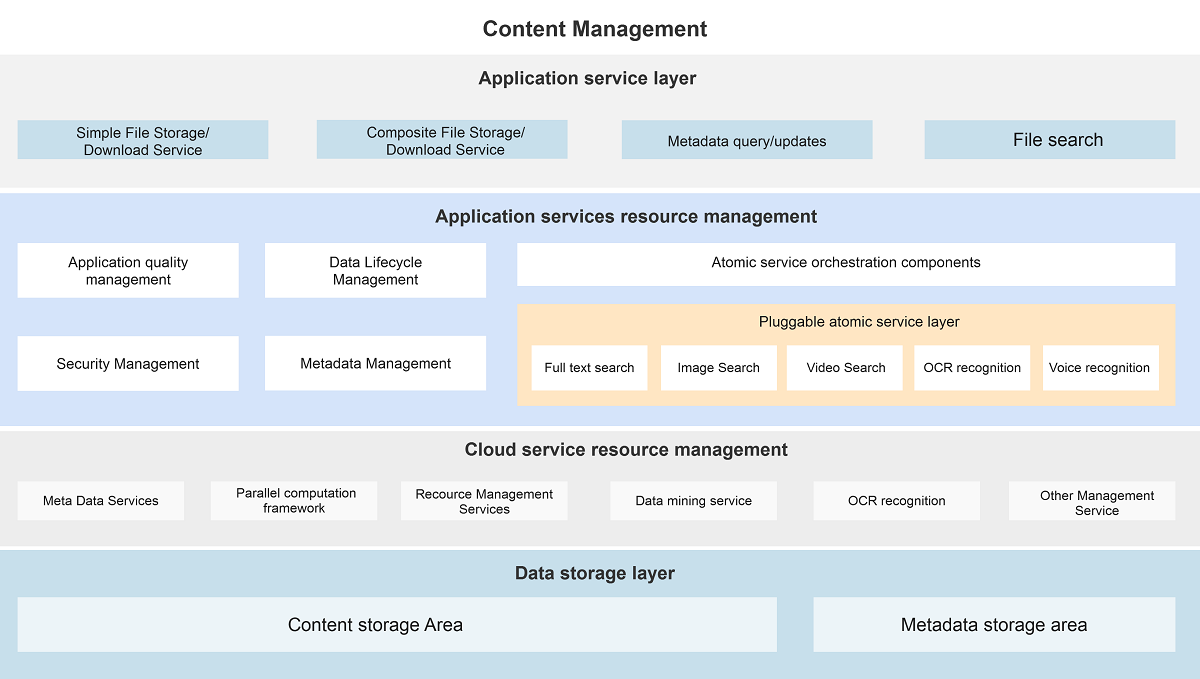 Based on the Spring-Cloud framework-based micro-service architecture, SequoiaDB content management solutions allow users to freely define how object files are handled in different data storage containers through pluggable components and configurable processes. For example, for contract scan type business, the system can directly add the OCR text recognition module to the unstructured file processing flow, so that all the contracts written to the container automatically perform text recognition processing and directly support the full-text retrieval capability for its content.

Infinite Elastic Scalability
With the increasing popularity of mobile applications in enterprises, more and more business systems need to store unstructured data such as image scans. With traditional technologies, the capacity and bandwidth of storage devices often become the biggest bottleneck. Applying a distributed content management solution based on the SequoiaDB, users can store nearly unlimited amounts of unstructured data.

High concurrency low latency
Nowadays, unstructured data is no longer limited to traditional archiving and auditing services. More and more online transaction systems are gradually relying on image and image data in business processes. The distributed content management solution provides users with high concurrent low latency unstructured data access capabilities for online services.

Offsite distributed architecture
For enterprises with a large number of branches in various places, how to effectively unify the unstructured data scattered throughout country is often subject to the bandwidth constraints of the data center. Based on SequoiaDB's distributed content management solution, it provides an architecture that integrates metadata and unstructured data to maximize savings of bandwidth between data centers.

Multi-tenant
Due to the different business scenarios served by the upper application, different applications have different requirements for data security, stability, and latency. The SequoiaDB provides features such as multi-instance and data area isolation, so that storage resources from different business systems do not interfere with each other.

High availability
Nowadays, online business systems tend to use a large amount of unstructured data, and business interruptions due to content management system failures are more difficult to receive. SequoiaDB uses data multi-copy redundancy to maximize data reliability and availability. At the same time, the SequoiaDB supports a rich disaster recovery strategies including 2-DC in same city, 3-DC in same city, 3-DC across two cities, and 5-DCcenters cross three cities
Unified management of unstructured data

Provide a unified view of enterprise-level unstructured data
Break down data barriers between business systems
Improve data exchange efficiency between business systems

Total amount of Online Data

Historical image data are fully online, enhancing user experience
Reduce historical data extraction expenses, improve enterprise IT operation and maintenance capabilities

Achieve 24x7 high availability and disaster recovery strategies to ensure that data are always available online
Avoid exposing core business databases directly to external consumer business systems
Quickly implement new business ideas and avoid damage of direct access to core business data

Replace minicomputers with PC servers to reduce hardware and software costs
Connect with public and private cloud platforms to reduce IT input costs
Shift down core trading system business to reduce host load and upgrading costs